Capi­tal controls on Icelandic peop­le, firms, and pension funds were lifted on Tues­day (14 March).
The removal of the capi­tal controls was ann­ounced on Sunday, in addition to updates to rules on for­eign exchange and special res­erve requirem­ents for new for­eign cur­rency inflows.
The capi­tal restrict­ions were introd­uced in the wake of Iceland's fin­ancial collapse eight years ago.
In early Oct­o­ber 2008, the Icelandic bank­ing system, which had grown to be twelve times the GDP of Iceland, came crumbling down in a matter of three days. With that crash came a comp­let­ely new rea­lity for Iceland­ers.
The Icelandic Krona lost almost half of its value, inflation soared, unemploy­ment rose to dou­ble-digit figures, emergency laws were put in place, and the Trea­sury, which had been almost debt-free, faced a 216 billion krona def­icit - amount­ing to 12 percent of its GDP.
The country needed to enter an IMF-programme to get access to funds and main­tain a sense of norma­lity.
On 28 Novem­ber 2008, capi­tal controls were put in place to stop the out­flow of Krona-as­sets from the Icelandic economy, to prot­ect the cur­rency, address problems in the balance of pay­ments and temper shocks to the Icelandic economy.
In pract­ice, the controls meant that the freedom to trans­fer funds to and from Iceland was taken away.
The free movem­ent of capital, secured in the EEA-a­greem­ent with the EU, was de-facto abol­is­hed. Nobody could get for­eign cur­rency wit­hout going through the Central Bank of Iceland.
Reg­ular people had to bring their plane ticket with them to purchase euros in a bank if they were tra­vell­ing to the continent, in order to prove that they were really lea­v­ing the country. All exporters were compelled by law to hand in all for­eign cur­rency revenues to the Central Bank.
Offs­hore owners of Krona were stuck inside the capi­tal controls until further not­ice.
Tourism saves the day
Since 2011, Iceland has experienced a remarka­ble change in fortu­ne.
The country has experienced growth every year since then and this hit record highs in 2016 at a whopp­ing 7.2 percent.
Of the countries that are a part of OECD, only India had a hig­her level of growth.
The rea­son for this was a tourist boom in Iceland. In 2010, around 500,000 people visited the island. This year it is expected that the num­ber of tourists will hit 2.3 milli­on, in a country with around 330,000 inhabit­ants.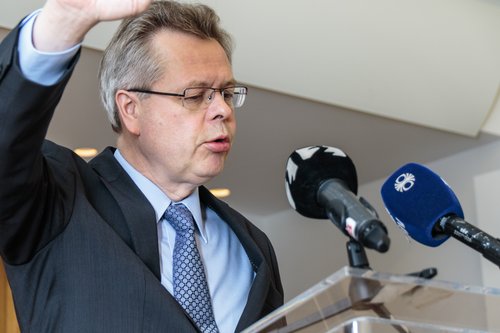 In the last few years the govern­ment has also reached an agreem­ent with the creditors of the failed banks and a num­ber of large offs­hore Krona-owners. This left the Icelandic economy with a sizea­ble haircut taken from creditors' assets to main­tain stability.
Last August, mea­sures were taken to lift the capi­tal controls in gradual steps and, on Sunday, the govern­ment ann­ounced that they will be mostly abol­is­hed them.
"Iceland's careful, mea­sured app­roach to lift­ing capi­tal controls was developed and app­roved with domestic and international supp­ort," said fin­ance mini­ster Bene­dikt Johann­es­son in a press con­fer­ence.
"As a result of this struct­ured plan, our diversified economy is larger than ever before and expected to cont­inue to grow at a robust pace this year. Our susta­ina­ble fis­heries, tourism, tech start-ups and renewa­ble energy sect­ors have grown rapid­ly, provi­ding a strong back­bone to our economy. This move is the crit­ical first step in the new govern­ment's stra­tegy for the country's fin­ancial fut­ure, and we can now look ahead with a healthi­er, stron­ger and more diversified economy," he add­ed.
The offs­hore krona problem
One of the largest problems that needed resol­v­ing before the capi­tal controls could be fully lifted was the fact that for­eign investors still owned a large amount of offs­hore Krona assets, 195 billion Krona (cur­rently €1.65 billion) to be exact.
These investors have wanted to get out of Iceland for years, but have not been able to do so due to the controls. A deal was needed to red­uce the effect of their exit on the value of the Icelandic Krona.
The Central Bank of Iceland conclu­ded an agreem­ent with some of the owners of offs­hore Krona assets in the last weeks.
Under the agreem­ent, the bank will purchase offs­hore Krona assets from them in an amount equivalent to around 90 billion Krona, at an exchange rate of 137.5 krona per euro, up to 20 percent hig­her than the official exchange rate.
Offs­hore Krona hold­ers that have not made an agreem­ent with the Bank will be invited to do so in the next two weeks. Some of them have however declined the offer alr­ea­dy.
Accor­ding to the Bank's assess­ment, offs­hore krona assets amounted to app­rox­ima­tely 200 billion Krona at the end of Febru­ary 2017. After the transact­ions ann­ounced the out­stand­ing stock of offs­hore krona, assets will total about 100 billion Krona.
The transact­ions will stave off the risk of large-scale out­flows of offs­hore Krona through the for­eign exchange market, upon the liber­alisation of capi­tal controls, accor­ding to the Central Bank.
Ther­efore, they red­uce the systemic risk associ­ated with a large stock of offs­hore Krona assets, which, in the Bank's opinion, could have caused monet­ary, exchange rate, and fin­ancial insta­bility.
Positive react­ions
The lift­ing of capi­tal controls has alr­eady had an effect on Iceland´s rat­ings. Stand­ard & Poor´s (S&P) raised Repu­blic of Iceland Rat­ings to 'A/A-1 yester­day. Out­look is stable. S&P say: "We beli­eve that the recent lift­ing of most of the rema­in­ing capi­tal controls and the conclusion of an agreem­ent with the owners of offs­hore krona assets strengt­hen Iceland's external profile. We are ther­efore rais­ing our long- and short-term rat­ings on Iceland to 'A/A-1' from 'A-/A-2."
Moody's Investors Service also issued a positive Comment on the Govern­ment of Iceland yester­day, wit­hout rais­ing Iceland´s credit rat­ing. 
The lift­ing of capi­tal controls has not had extensive effects on the value of the Krona. Before the act­ions were ann­ounced a single Euro cost 115 Krona. After the market closed last Fri­day one had to pay 116,95 per Euro, so the Krona has lost 1.7 percent og its value during the week. 
Despite of the above mention act­ions the Central Bank decides to keep its key inter­est rates at five percent sit­ing cont­inued high growth as the main rea­son. A statem­ent from the Monet­ary Policy Committee stated: "Ind­icators imply cont­inued strong growth thus far in 2017. Job creation is strong, unemploy­ment is low, and the labour part­icipation rate has risen above the pre-crisis peak. Even though importa­tion of for­eign labour pulls in the opposite direct­ion, dem­and pressures in the economy are growing." 
A limited version of the art­icle, and wit­hout latest updates, was publ­is­hed in EU Obser­ver last week.