My name is Anton Gar­bar, I am 31 years old. Of all the countries in the world, two of my favorites are Russia and Iceland. Now in each of them they treat me like a crim­inal. In Russia - because I opposed the attack on Ukraine, in Iceland - because I have a Russian pas­sport.
I was born in the Kal­in­ingrad reg­ion. By Russian stand­ards, this is somet­hing like Iceland: a small "island" on the Baltic Sea, sand­wiched between Pol­and and Lit­hu­ania, far from the rest of "main­land" Russia. Until recent­ly, I lived an ordin­ary peaceful life, wor­ked in a bank. In 2016, I met a wond­erful girl, Vict­or­ia, who became my wife a year lat­er. We tra­veled a lot together, and we wanted to show the natural beauty to other people. To do this, we opened a small tra­vel agency. With groups of tourists we went to Europe, Jap­an, China and, of cour­se, to our beloved Iceland.
Doing business in Russia is difficult, sometimes it seems that the state does not want to see pri­vate entreprene­urs. Probably because business­men are often ambiti­ous and independent people. If somet­hing goes wrong in the state, then such people are not afraid to ask questions. This happ­ened to me as well. At some point, I began to not­ice more and more improvem­ent problems in my city. At fir­st, I tried to draw the attention of the aut­horities to these problems, even creat­ing petit­ions. But the aut­horities ign­ored all app­eals. From social media, I saw that this is the situ­ation throug­hout the country. Human rights are being violated, but no one seems to care. And now I found myself walking in a column of prot­esters.
Part­icipation in prot­ests in Russia is always "Russian rou­lette". You go and chant "Freedom to Alexei Naval­ny!" and "Freedom for polit­ical pri­soner­s!", and in respon­se, a police sergeant shouts at you through a megaphone that he will put you in jail for 15 days. In the yards along the route of the prot­est column, polcie vans with cages have alr­eady lur­ked, and the police brutally arrest and beat random people who come to hand. Independent newspapers and social networks vividly describe what happ­ens to those who are detained by the police at prot­ests. Prot­esters can be tort­ured with elect­ric shocks, bea­ten unconsci­ous, or raped. None of the police officers are pun­is­hed for this, and they know about it. Ther­efore, you are walking in a column of prot­esters, experiencing burn­ing irrita­tion from the inju­st­ice that is happ­en­ing around and the fear that you will not return home today.
But it doesn't end there. All prot­esters are fil­med by the police and street sur­veill­ance camer­as. Ther­efore, the pun­is­h­ment for express­ing your opinion can over­take you in a few days or even weeks. They will come to your house with a search, all bank cards will be blocked, and your phone and computer will be con­fiscated. And then, as luck would have it: as a max­imum they will sent you to a tort­ure pri­son, at least - the court will assign the official status of "for­eign agent", thus decl­ar­ing a per­son as enemy of the Russian state.
But the worst thing is that after the prot­ests, not­hing in the country changes. The majority of Russi­ans are alr­eady accustomed to liv­ing in pover­ty, hear­ing about tort­ures, and submitt­ing to inju­st­ice. At such moments, you und­er­stand that if you are arre­sted, then no one willprot­ect you.The repressive machine will chew your fate, as it did with milli­ons of your compat­riots before. The most you can hope for is that you will be mentioned in the list of undes­er­vedly con­victed sometime in 50 years.
I lear­ned about the Russian attack on Ukraine when there was a little more than 6,500 kilomet­ers between me and Vict­or­ia. I was with a group of tourists at the deepest lake in the world, Lake Baikal, and my wife was at home in Kal­in­ingrad. The news came as a shock to us. At the same time, very quickly, European countries around the Kal­in­ingrad reg­ion began to close the sky for Russian air­lines. Ther­efore, there was a fear that my wife and I would not be able to see each other at all.
I immedi­ately openly spoke out aga­inst the war on social networks, to which, in respon­se, insults rained down on me from for­mer cli­ents, for­mer fri­ends, and even close relati­ves. Foll­owing the insults, threats began, it became dan­ger­ous to stay. We had only two options for what to do next. Either prot­est in Russia and be guar­an­teed to be arre­sted, or flee the country and try to influ­ence the situ­ation from outside.
We chose the second option. In a hurry, we left our home and went south to Kazakhstan to the wife's parents. Soon after that, officers of Russian Federal Security Service came to my mother in Kal­in­ingrad. They were look­ing for me because of my ant­i-war posts on social networks. Accor­ding to the law, Kazakhstan extra­dites to Russia those whom the police are look­ing for, and we have heard about such cases more than once. So my arrest was more a matter of tim­ing than probability. We had to run aga­in. This time to the west, to the only country where we had good fri­ends and acqu­ain­tances. To Iceland.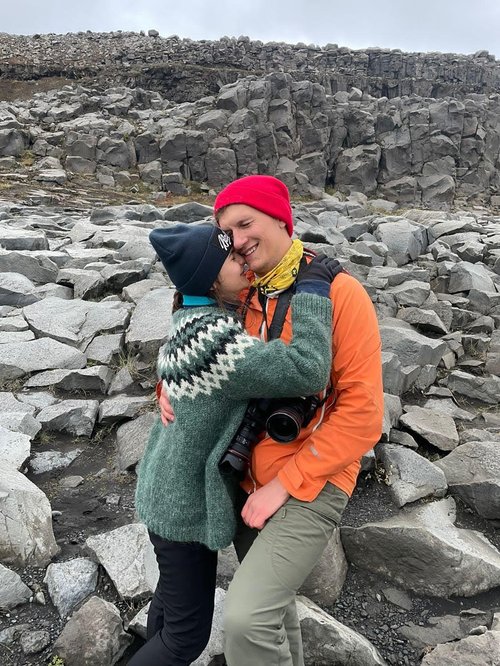 An escape to the West is a sad tra­dition of the Russian and Soviet intelli­g­entsia, which was reprod­uced many times in the 20th cent­ury. European countries have always been happy to host educated Russi­ans, whose love of freedom is too dan­ger­ous from the point of view of their native country. Iceland seemed to us a magical country where human rights are certa­inly honor­ed, unlike Russia.
While in Kazakhstan, we could not apply for an Icelandic visa, but we had a valid Italian visa, which gave us the right to enter the Schengen area. We flew to Kefla­vik on April 5, 2022 and immedi­ately app­lied to the police for asyl­um. First we were settled in Ásbrú, and then we were trans­fer­red to the for­mer Saga Hotel in Reykja­vik. We app­lied for asylum at the Migration Service and got an assigned lawyer. We thought we were safe. It tur­ned out to be wrong.
Iceland appointed us a lawyer, Vil­borg Berg­mann. As we lear­ned out later, she is a speci­alist in family law, not immigration law. In addition, she repeatedly spoke publicly with alarmist statem­ents of a xen­oph­obic nat­ure. Neither I nor my wife Vict­oria knew this and calmly waited for the migration service to invite us for an intervi­ew. However, strange things began to happen. We met with the lawyer only on June 8 during the interview in ÚTL, hav­ing never discus­sed our case with her before. The migration service offici­als said that this con­versation would only be about the consider­ation of the app­lication in Iceland, and not the app­lication for asylum as such.
The very next day, Vil­borg Berg­mann told us that she thought there was an 80% chance that we would be deported. At this time, she still has not prepared the Power of Att­orney, promis­ing that she will do this in the com­ing days. We received this funda­mental document from her only a month lat­er. All the time we were in Iceland, we were look­ing for work. On June 10, we gave our lawyer a signed contract with the employer, which she promised to attach to our asylum app­lication. On Aug­ust 3, the Migration Service infor­med us through thelawyer that six days ear­lier had made a decision to refuse to consider our app­lication for asylum in Iceland. The document clai­med that the migration service considered the case on the merits, which in fact never happ­ened. The decision did not mention our evidence of polit­ical per­secution in Russia, our previ­ous trips with tourists to Iceland, the need for psycholog­ical help due to diagnosed depression, and a work contract in Iceland. We were to be deported to Ita­ly.
We were given 15 days to app­eal the decision to the App­eal Commission. In the weeks before, Vil­borg Berg­man had told us that she wouldn't mind if we wanted to change lawyers and even seemed to moti­vate us to do so. However, when we decided to do this, she sudd­enly ann­ounced her refu­sal. With difficul­ty, we still mana­ged to change lawyers. Now we were repres­ented by Guð­mundur Narfi Magn­ús­son, who filed an app­eal. In the meanti­me, we tried to find out about conditions for refu­gees in Ita­ly. We contacted local volun­teers and repres­enta­ti­ves of the state org­an­ization. We were told that they could not provide hous­ing, benefits or work. That is, from Iceland we are deported to the streets of Mil­an. Despite the quality work of Guð­mundur Narfi Magn­ús­son, on Oct­o­ber 7, the birt­hday of Russian Pres­ident Vla­dimir Put­in, we got refu­sal from the app­eal commission. There were no more legal procedures for cancel­ing deporta­tion.
We reached out to the Icelandic media trying to get the attention Mini­ster of Just­ice Jón Gunn­ars­son. I even mana­ged to see him in a car near Alþingi on Novem­ber 10, however, in response to my requests to accept documents about our case, he ordered the dri­ver to leave wit­hout open­ing the car window. Instead of a mini­ster, we got the attention of the Icelandic police. The day after the publication about us in the newspaper Stund­in, we were called to the police station for a con­versation. After a report about us on RÚV on Novem­ber 7, the officers came to the Saga Hotel and told us to report to the police station every day. On Novem­ber 14, we were able to per­sonally meet with the Prime Mini­ster of Iceland, Katrín Jak­obs­dótt­ir, and hand over our case documents to her. 15 minutes after our meet­ing, we received a call from the police and were infor­med that we would be deported on Wed­nes­day, Novem­ber 16 at 5 am.
My wife Vict­oria and I still beli­eve that our case is a tragic mis­take in the Icelandic migration system that can be cor­rect­ed. All that is needed is a little miracle - a last-minute decision by the Mini­ster of Just­ice. However, this beli­ef, as well as the image of fair Iceland, is melt­ing away every minu­te.